Features
•    It features an electric cord and circuit breaker
•    It is light weighted and portable
•    It has a high air velocity of up to 3000 CFM. This is higher velocity than what any other competing products can offer.
•    It is robust
•    It has a strong welded steel body and features a heavy gauge steel case.
•    The unit is epoxy coated
•    It features a power-on light indicator
•    It has a GFCI protection that promotes the safety of the operator especially if it is being used in the wet area.
•    It features a duplex AC outlet that allows a daisy chasing of up to four axial air movers.
•    The unit can be interlocked and allows for stacking during handling and storage
•    Comes with 2 long life maintenance free bearing motor.
•    The unit is light weighted and compact. It comes with LLDP housing unit that is chemical resistant and washable.
•    Has robust and a larger balanced carrying handle and a body made of heavy gauge steel.
•    Comes with a 20' power cord
•    Has a switch on its control panel which can be used to control and regulate speed.
Unit Specification.
The Zeus Extreme can be deployed for quick air drying since it boasts of the following specifications: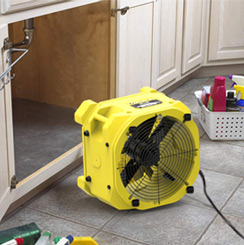 •    Operates on 115 VAC
•    Draws a current of 2.3 Amps when running at a high speed
•    It is CFC Duplex rated 15A UL
•    Sound level is <75
•    Enjoys an air flow of 3000 CFM
•    It weighs 26lbs
•    Measures 19.37'' X20'' x15.5"
Zeus Extreme was designed to maximize air velocity and evaporate water from subfloor, carpets, sill plates and walls. The unit has the capacity to meet the customer's requirements and can be relied on when an adverse natural catastrophe brings health hazards to your doorstep. Zeus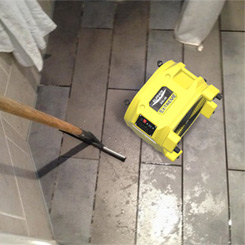 extreme is safer to use and efficient. It can withstand 1.5'' static pressure.
Zeus extreme is warranted; all parts and labor components enjoy 1 year of warranty while the parts come with 2-year warranty. Notice that the unit's workmanship and materials have 3-7 years of warranty.
To optimize the unit, it should be connected to a power source of 115/60 Hz outlet and placed in the desired position. The switch on the control panel could then be used to select the desired speed. Here, you have an option of choose either high or low speed. Note that the unit should not be moved while it's operating.
Maintenance and Operating the Unit
Before you start maintaining the unit, it is important to ensure that it is plugged from the power source. The housing can then be removed and have the problem checked.  For effective service, check and ensure that any damaged parts are serviced or replaced to reduce the occurrence of shock and fire hazards.
What You Should Do While Operating Zeus Extreme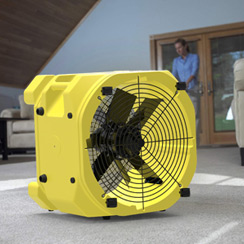 The unit and the electric outlet to be used should be grounded to reduce the risk of shock and fire. Also, it is mandatory that you maintain a reasonable distance between the carpet and the unit's inlet or any other material and air inlet. If you don't do this, you will end up with a clogged inlet. It could lead to overheating.
To get the best service from the unit, check and ensure that the motor inlet is free from dust and dirt or any other particle that is likely to make the motor overheat.  But when you notice that the unit is dirty, clean it using a vacuum.  Lastly, it should only be used on the steady surface.
Using the Unit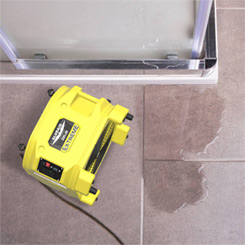 To get the best results, it is useful that you pair it with a dehumidifier. The unit will reduce the drying time while the dehumidifier reduces humidity levels.  You can also deploy it in areas that need to be cooled down. Place the unit at the door and have the air directed to the areas that need to be cooled.
Zeus extreme can be set up in multiple positions. It all depends on the direction you want to direct the airflow. It can be tilted back and forward depending on where you want the air directed. You can also tilt it upward or downward if you want to send the air up or down.
Taking Care of the Unit
Check and clean the grill by wiping off any dust and particulate that accumulates on the grill. Also, any dirt accumulation should be removed otherwise it is likely to cause overheating or lead to electrical shock.